My updates on my car
Recently I re-did my interior. Now the project that im working on now is engine styling. I have been working on polishing my valve cover and engine block. So far its look really great. I put red wire hose and painted a few things to make my car more exciting. Pics coming soon...
Next Project
The next stage i would like to do is a Tonneau cover. Im going to have to find someone that makes tonneau covers and i will more likely have to custom fit it on my car. It will be a fun project to do and i look forward to it.
Future Mods
I have tons that i wanna do still to my car. Next i wanna go with a ram air hood. Then move to the rims. 15"s arnt working for me anymore. I wanna get 18" rims not sure what style i want. Then I will go with suspention. I wanna bag it. this way i dont have to worrie about scraping everywere and I can be LOW. Then i want a new kit... More on that later

If u have a sugestion on what i should do please email me.
rally_fire_96@yahoo.com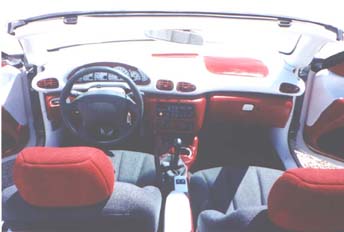 A nice picture of my new interior
This was a long and tiering process to do. It took me a little longer than 2 months to acomplish. I would come home from work and work on if for a few hours a nite.
rally_fire_96@yahoo.com